TouchPal Keyboard - Type Fun With Emoji & Themes & Fonts
2.8.0
This Keyboard's Theme-ing with Emojis!
If you want to customize the keyboard of your Android handset then you should download this Android keyboard without having a second thought. TouchPal Keyboard – Swype Input is a nice app which helps you in typing messages and emails on your Smartphone quickly and allows you to insert various emojis in them as well. It offers a plethora of features and gives you the opportunity to create a custom keyboard for your phone. With this app on your phone, you would be able to set the latest themes for keyboards on your device. Moreover, it would help you in increasing your typing speed and also provide a variety of stickers and emojis to add color to your texts.
While TouchPal Keyboard is extremely beneficial and offers various excellent features it is a highly intrusive app which requires access to a lot of private information. If you don't want to compromise your privacy then it is best for you to not download this keyboard app.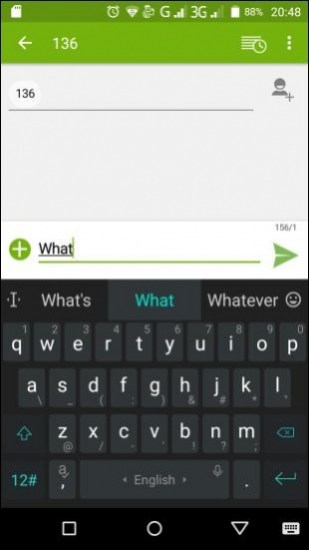 TouchPal Keyboard – Swype Input has a user-friendly interface which enables you to utilize its features without facing any difficulty. The intuitive design and layout of this app ensure that you encounter no problem in navigating its different sections. Before you can start using this Android keyboard, you would have to enable it in the Settings app of your phone and then choose it as your input method instead of the default keyboard. This keyboard is equipped with Swype Input technology which enables you to enter text simply by swiping your fingers over the keys. Moreover, there are auto-correct and word prediction features available in this app too which makes typing texts a simple and error-free exercise for you.
The TouchPal app is divided into various sections. These sections give you the chance to see and download the different themes, emojis, stickers, boomtexts, fonts, and dictionaries that this app has to offer you. The themes section of TouchPal is dedicated to all the free downloadable themes that you can apply to your Android keyboard. You can also create your own custom theme for your keyboard too. For this, you need to click the button located on the bottom-right corner of the screen. This would open the Customize menu in which you can choose the background picture of the keyboard from the gallery or click a photo using your phone's camera. You can change the background color of the keyboard as well as the color of the keys.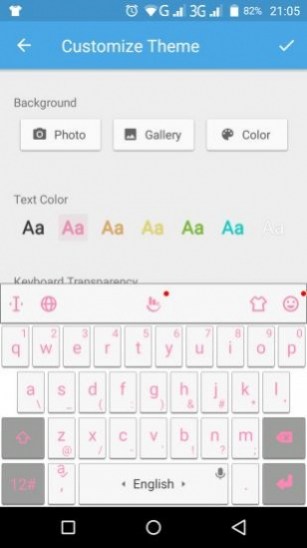 The emojis section of the app contains a wide variety of emojis which you can insert in your texts. You will have to download the emojis you like before they become available for you to use. Apart from the emojis, there are extensive libraries of stickers, boomtexts, fonts, and dictionaries available in their respective sections in the TouchPal app. You will have to download each item before getting the chance to have them available on your Android keyboard. Support for various languages is available in this app as well. You can change the language by clicking the language icon located on the space bar of the keyboard.
Features:
User-friendly interface
Intuitive design and layout
Swype input method for typing text quickly
Lots of free downloadable keyboard themes
Option for creating custom keyboard themes
Wide range of emojis
Huge library of stickers
Variety of boomtext available
Various Fonts to choose from
Word prediction feature
Auto-correct to eliminate spelling mistakes
Support available for over 150 languages
Conclusion:
TouchPal Keyboard – Swype Input is an app which is marketed towards people who want to experiment with their Android Keyboard. It offers them various themes for their keyboard and also allows them to create their custom keyboard for their phone. It is certainly an app worth having on your phone if you aren't bothered about your privacy too much.
---
Add a review
Tell us your experience with
TouchPal Keyboard - Type Fun With Emoji & Themes & Fonts
2.8.0
RELATED PROGRAMS
Our Recommendations
---
---
---
---